Jay Darcy
26th March 2023
Musicals of Manchester: April
Find out what musicals are coming to Manchester this April!
Manchester has the greatest theatre scene outside of London. There's numerous theatres, and a diverse selection of theatre (plays, cabaret, etc.), but musicals are, without a doubt, the most popular form of theatre. So here are the musicals (and pantomime – yes, in Spring!) coming to Manchester (and Salford) this April!
Manchester Opera House
Wednesday March 22 – Sat April 1
"Following its critically acclaimed West End run, the Lincoln Center Theater's multi-award-winning production of My Fair Lady is coming to Palace Theatre Manchester for two weeks only.
This glorious production of Lerner & Loewe's world-famous musical features the much-loved classic songs 'I Could Have Danced All Night', 'Get Me to the Church on Time', 'Wouldn't It Be Loverly', 'On the Street Where You Live', 'The Rain in Spain', and 'I've Grown Accustomed to Her Face'.
Packed with lavish sets, stunning costumes and standout performances, this is a "Rolls Royce of a revival" (Evening Standard) and the perfect celebration of the theatre scene BACK in full bloom.
Directed by Bartlett Sher (The King and I, To Kill A Mockingbird), this sublime production features Frederick Loewe's ravishing score and book and lyrics by Alan Jay Lerner. "
The Lowry (Lyric Theatre)
Tuesday March 28 – Sat April 1
"This brand-new musical, come gig, come ballet, is from some of the most exciting figures in modern British Theatre. Cake: The Marie Antoinette Playlist will be venturing on a UK tour from March 2023, starting at the Mayflower Studios, Southampton.
Cake: The Marie Antoinette Playlist has an award-winning creative team including Olivier winner's Drew McOnie (In the Heights; Jesus Chris Superstar) and Morgan Lloyd Malcolm (Emilia – The Globe)
Cake combines a multi-genre pop score with 18th century France to retell a story that sparked a revolution. When Marie Antoinette married King Louis, her reputation was already tarnished by gossip. But when she is implicated in a crime to defraud the crown jewellers of a diamond necklace, it is not just her reputation at stake, but the monarchy and France itself.
Cake was originally commissioned by Paul Taylor-Mills (Heathers & In the Heights) and promises to re-define our expectations of what a musical can be."
Palace Theatre Manchester
Monday April 3 – Saturday 15
"The international, award-winning smash-hit musical The Bodyguard is back! Starring Pussycat Doll, and multi-platinum Grammy nominated Melody Thornton* as Rachel Marron.
Former Secret Service agent turned bodyguard, Frank Farmer, is hired to protect superstar Rachel Marron from an unknown stalker. Each expects to be in charge – what they don't expect is to fall in love.
A 'BRILLIANT!' (The Times), breathtakingly romantic thriller, The Bodyguard features a whole host of irresistible classics including 'Queen of the Night', 'So Emotional', 'One Moment in Time', 'Saving All My Love', 'Run to You', 'I Have Nothing', 'Greatest Love Of All', 'Million Dollar Bill', 'I Wanna Dance With Somebody', and – one of the greatest hit songs of all time – 'I Will Always Love You'.
*Melody Thornton will perform the role of 'Rachel Marron' at all evening performances only. Cast and performance schedule subject to change without notice."
The Lowry (Lyric Theatre)
Wednesday April 5 – Sunday 9
"Ian McKellen and John Bishop are coming to The Lowry – with a hilarious comedy for all ages that critics have described as "a total hoot" (★★★★★, Broadway World), "a solid gold hit" (★★★★★, The Stage) and absolutely "glorious" (★★★★★, Daily Telegraph).
Mother Goose is a live entertainment spectacle not to be missed – full of fun, musical comedy, star power and surprises that will make you honk out loud. This cheeky fairytale is exactly "the kind of knockabout entertainment that we all need" (The Times) and "infectious fun" (Time Out) from start to finish
So scramble for tickets to see two legends of acting & comedy "work beautifully as if they have been a double act for years" (London Theatre 1), and get ready for fairies with hefty vocal chords, puppets with tap dance qualifications and impeckably constructed mayhem that will quack up those aged between 3 to 103! Don't be a goose – book your tickets now."
Hope Mill Theatre
Thursday April 13 – Friday 23
"Grease is the word!
Hope Mill Theatre's Amateur Dramatics Company presents Grease. Following a smash run of Legally Blonde, the team are back and ready to take you to Rydell High this April.
Since its electric Broadway and West End debut in the early 1970's, Grease has remained one of the world's most popular and enduring musicals. Funny, frank and featuring the hit songs 'Greased Lightnin'', 'Hopelessly Devoted to You', 'You're The One That I Want', and 'Summer Nights', Grease follows the journey of Danny and Sandy, alongside the Burger Palace Boys and the Pink Ladies, as they navigate high school to the unforgettable rock n' roll soundtrack that defined generations."
Manchester Opera House
Thursday April 20 – Saturday 22
"This sensational multi award-winning West End show first opened in 1989 and has been thrilling audiences around the world ever since. Now it triumphantly returns for its 2023 UK Tour.
Forget feel good, Buddy – The Buddy Holly Story is FEEL GREAT! Experience the drama, passion and excitement as a multi-talented cast of actor-musicians tell Buddy Holly's story, from his Texas rockabilly beginnings to international stardom and his legendary final performance at the Surf Ballroom in Clear Lake, Iowa, before his tragic death at the age of just 22.
Featuring two terrific hours of the greatest songs ever written, including 'That'll Be The Day', 'Oh Boy', 'Rave On', 'La Bamba', 'Chantilly Lace', 'Johnny B. Goode', 'Raining In My Heart', 'Everyday', 'Shoutand' many many more, this show is just Peggy Sue-perb!
Book now for the most successful Rock & Roll Musical of all time!"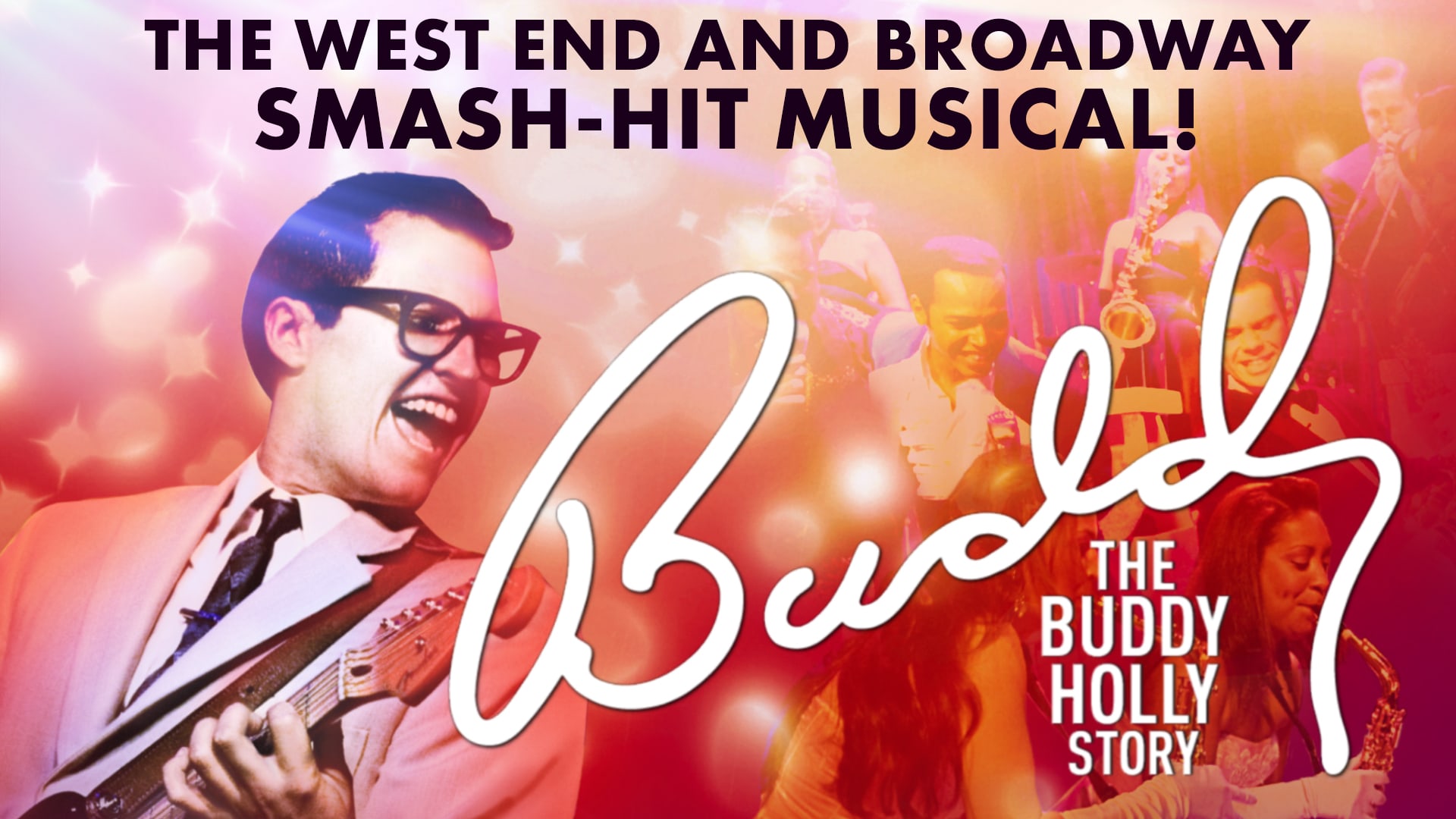 Waldo's Circus of Magic & Terror
The Lowry (Quays Theatre)
Thursday April 20 – Saturday 22
"Come one, come all to a spectacular new musical Waldo's Circus of Magic & Terror. Under the twinkling stars of the big top, sensational circus, powerful magic and electrifying music combine to tell a poignant story of courage, resistance and love.It's 1933 Brandenburg and the Nazis are burning books and suspending civil rights. Many are desperate to escape, but for Waldo and his travelling circus of outcasts, acrobats and aerialists, 'the show must go on'.
As Hitler's dictatorship strengthens and oppression grows, the daring humanity and courage of this circus troupe stay hidden beneath the painted-on glamour of Waldo's big top. Love, loyalty and risk-taking balance on the tightwire as the world outside becomes darker and more dangerous.
This spectacular new circus theatre musical is informed by historical research and the experiences of real performers. It is written by Hattie Naylor (Ivan and the Dogs, The Night Watch) and Jamie Beddard (Messiah, The Elephant Man) with an original score by Charles Hazlewood (Paraorchestra).
Waldo's Circus of Magic & Terror is a large-scale collaboration between D/deaf, disabled, and non-disabled artists and creators and tours nationally in 2023.
All performances are chilled, BSL interpreted, captioned and audio described."
Manchester Opera House
Sunday April 30
"Starring Mary Byrne (X Factor), Jessica Martin (Copycats), Rebecca Wheatley (Casualty) and Susie Fenwick (West End Star), we present Menopause the Musical 2 – Cruising Through Menopause.
In this hilarious sequel to our smash-hit Menopause the Musical®, we fast forward five years to catch up with the same four characters for tales of their lives, loves and losses as they set off on the high seas.
Hot flushes, mood swings, memory lapses and weight gain Cruising Through Menopause is truly funny, heartfelt and reassuring look at the "joys" of menopause.  When your life is a bumpy ride full of twists and turns, it's hard to find and keep true friends.  But step on board and we'll take you on a trip of self-discovery, love and friendship all backed by a soundtrack of hysterical parodied hits!
For these four ladies the menopause was not the beginning of the end, but the beginning of a beautiful friendship where love conquers, and friendships never fail.
So, all aboard and we'll have you laughing and maybe even crying, as you join us for Menopause the Music'al 2 – Cruising Through Menopause."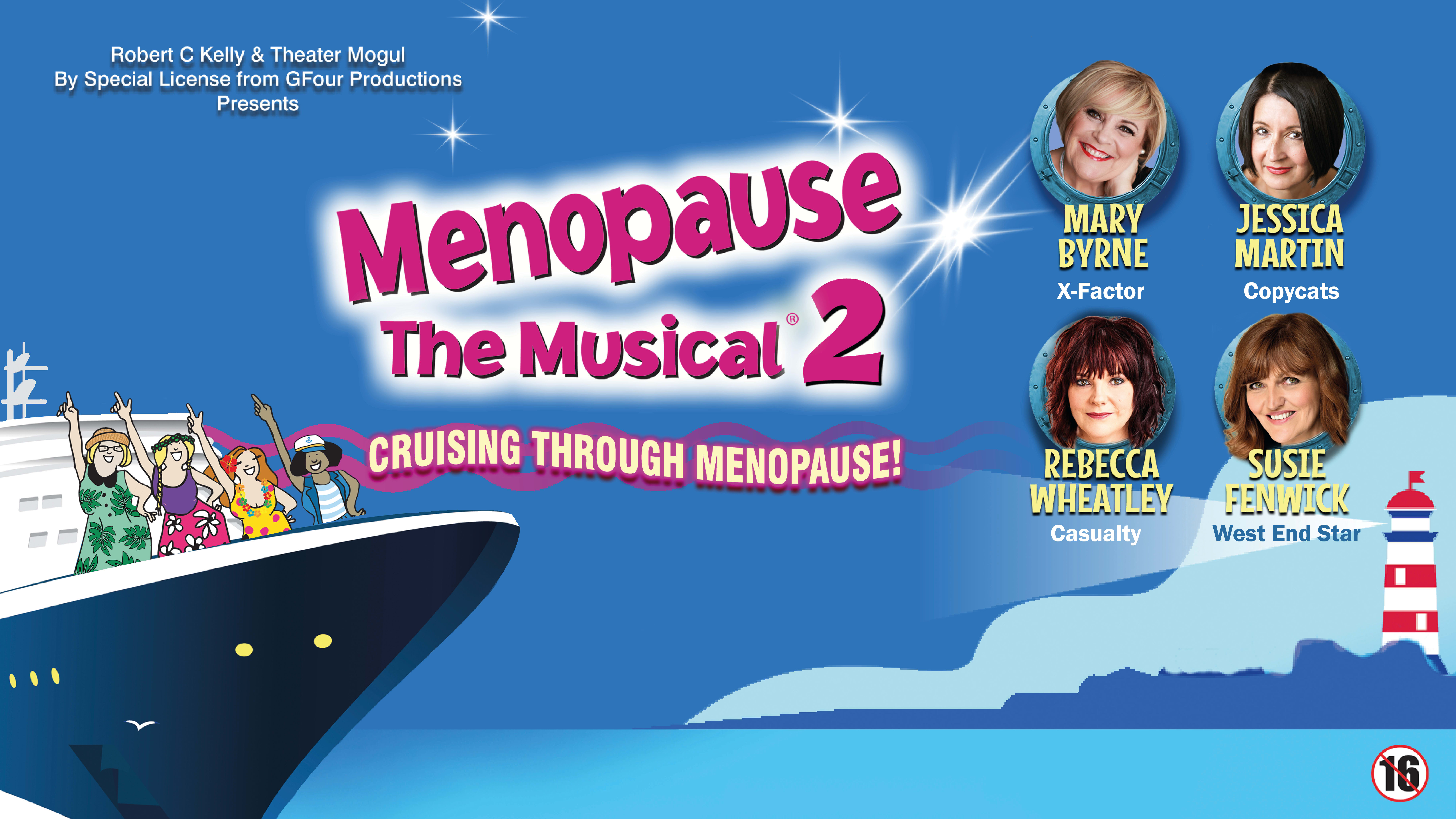 So, there you have it – a splendid selection of marvellous musicals (and a pantomime) to choose from! Stay tuned for what's on in May.