"Set against the majesty of the Serengeti Plains and to the evocative rhythms of Africa, Disney's multi award-winning musical is a unique theatrical experience that you will remember forever."
Hope Mill Theatre
Thursday January 26 – Saturday March 4
"Head Over Heels is the bold new musical comedy from the visionaries that rocked Broadway with Hedwig and the Angry Inch, Avenue Q and Spring Awakening. This laugh-out-loud love story is set to the music of the iconic 1980's all-female rock band The Go-Go's, including the hit songs, 'We Got the Beat,' 'Our Lips Are Sealed,' 'Vacation,' Belinda Carlisle's 'Heaven is a Place on Earth' and 'Mad About You.'
A hilarious, exuberant celebration of love, Head Over Heels follows the escapades of a royal family on an outrageous journey to save their beloved kingdom from extinction—only to discover the key to their realm's survival lies within each of their own hearts."
Manchester Opera House
Tuesday March 7
"Starring Mary Byrne (X Factor), Jessica Martin (Copycats), Rebecca Wheatley (Casualty) and Susie Fenwick (West End Star), we present Menopause the Musical 2 – Cruising Through Menopause.
In this hilarious sequel to our smash-hit Menopause the Musical®, we fast forward five years to catch up with the same four characters for tales of their lives, loves and losses as they set off on the high seas.
Hot flushes, mood swings, memory lapses and weight gain Cruising Through Menopause is truly funny, heartfelt and reassuring look at the "joys" of menopause.  When your life is a bumpy ride full of twists and turns, it's hard to find and keep true friends.  But step on board and we'll take you on a trip of self-discovery, love and friendship all backed by a soundtrack of hysterical parodied hits!
For these four ladies the menopause was not the beginning of the end, but the beginning of a beautiful friendship where love conquers, and friendships never fail.
So, all aboard and we'll have you laughing and maybe even crying, as you join us for Menopause the Musical 2 – Cruising Through Menopause."
Please note, due to an accident, Menopause The Musical 2 will now play on Sunday April 30.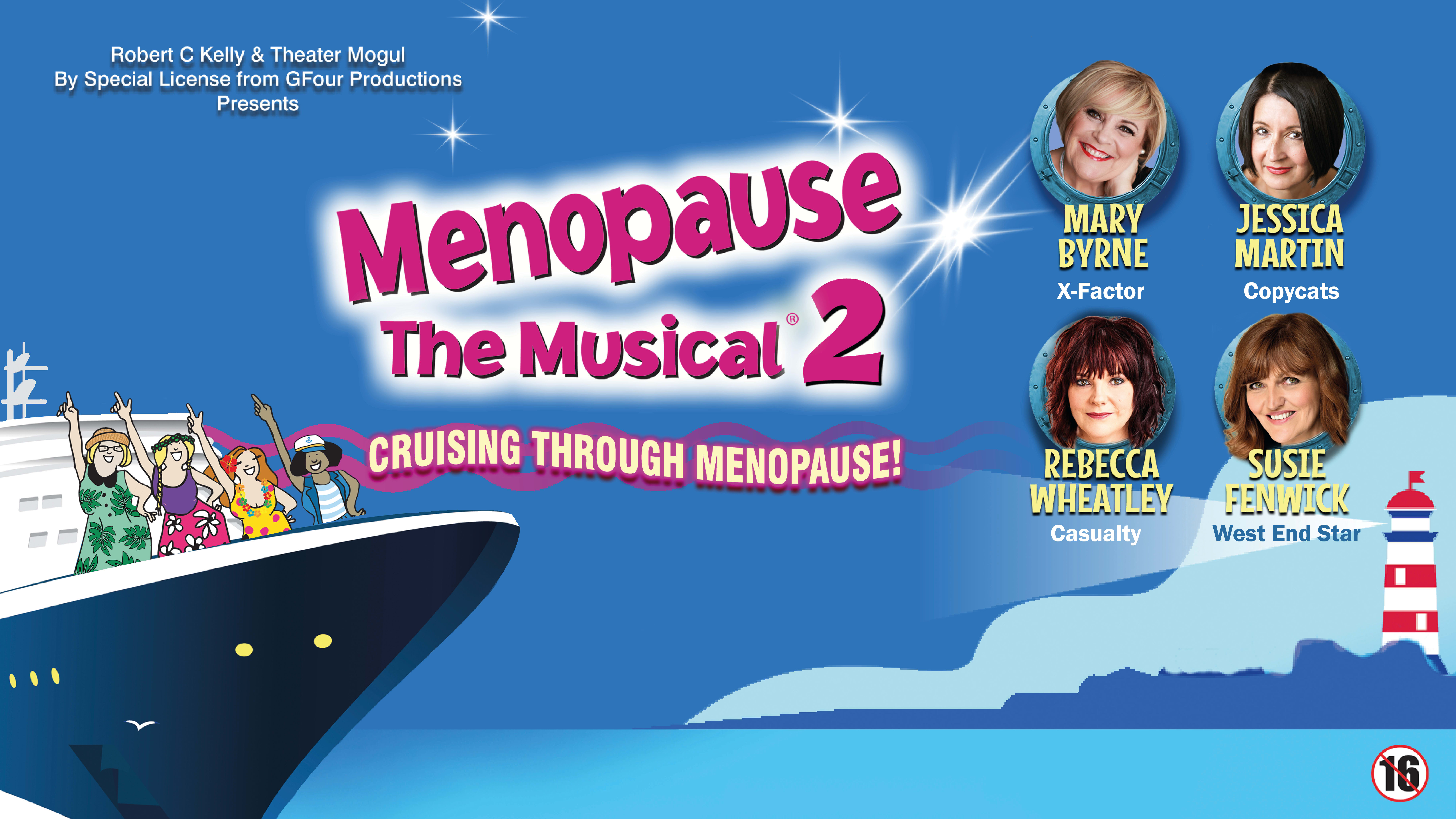 Manchester Opera House
Tuesday March 14 to 18
"It's the final countdown!
Join the West End and Broadway smash-hit musical Rock Of Ages on their Farewell Tour in 2023 – starring Kevin Kennedy (Coronation Streets 'Curly Watts').
After many long months rockin' out across the UK it's finally time for the guitars, the wigs, the bourbon, the eyeliner and the Fogmaster 5000 to get packed away and sent back to the 80's.
It won't be goodbye forever BUT we ask one more time – please, Don't Stop Believin' because when you just Can't Fight That Feeling anymore and you really Wanna Rock and Feel The Noize, you know what do to…
Book your tickets now and LET'S GET READY TO ROCK!"
Manchester Opera House
Wednesday March 22 – Sat April 1
"Following its critically acclaimed West End run, the Lincoln Center Theater's multi-award-winning production of My Fair Lady is coming to Palace Theatre Manchester for two weeks only.
This glorious production of Lerner & Loewe's world-famous musical features the much-loved classic songs I Could Have Danced All Night, Get Me to the Church on Time, Wouldn't It Be Loverly, On the Street Where You Live, The Rain in Spain, and I've Grown Accustomed to Her Face. 
Packed with lavish sets, stunning costumes and standout performances, this is a "Rolls Royce of a revival" (Evening Standard) and the perfect celebration of the theatre scene BACK in full bloom.
Directed by Bartlett Sher (The King and I, To Kill A Mockingbird), this sublime production features Frederick Loewe's ravishing score and book and lyrics by Alan Jay Lerner. "
The Lowry (Lyric Theatre)
Tuesday March 28 – Sat April 1
"This brand-new musical, come gig, come ballet, is from some of the most exciting figures in modern British Theatre. Cake: The Marie Antoinette Playlist will be venturing on a UK tour from March 2023, starting at the Mayflower Studios, Southampton.
Cake: The Marie Antoinette Playlist has an award-winning creative team including Olivier winner's Drew McOnie (In the Heights; Jesus Chris Superstar) and Morgan Lloyd Malcolm (Emilia – The Globe)
Cake combines a multi-genre pop score with 18th century France to retell a story that sparked a revolution. When Marie Antoinette married King Louis, her reputation was already tarnished by gossip. But when she is implicated in a crime to defraud the crown jewellers of a diamond necklace, it is not just her reputation at stake, but the monarchy and France itself.
Cake was originally commissioned by Paul Taylor-Mills (Heathers & In the Heights) and promises to re-define our expectations of what a musical can be."
So, there you have it – a splendid selection of marvellous musicals to choose from! Stay tuned for what's on in April.